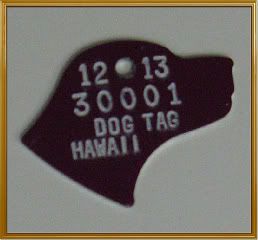 All dogs 4 months of age or older must be licensed as required by law. Dogs are issued a biennial license.

The owner of a dog must be 18 years of age or older.

To register a dog you are required to provide the owner's name, address, and phone number. You also need to provide the dog's name, breed, age, sex, and a veterinary certificate if the dog is spayed or neutered. Also provide the dog's microchip number if available.

The license fee for a dog that is spayed or neutered is $2.10. The license fee of a dog that does not have a veterinary certificate certifying that the dog is spayed or neutered is $6.10. The fees are not refundable and are not prorated.

Your dog must have a valid license on their collars at all times, even if your dog does not leave the house. If your dog is seen without a dog license, you are subject to a $25 citation. Each additional offense is also $25 ending in a mandatory court appearance.

You may mail information to register your animal to:


Hawaii Island Humane Society
74-5225 Queen Kaahumanu Hwy
Kailua-Kona HI 96740

Call the Kona shelter at (808) 329-1175 for additional information.